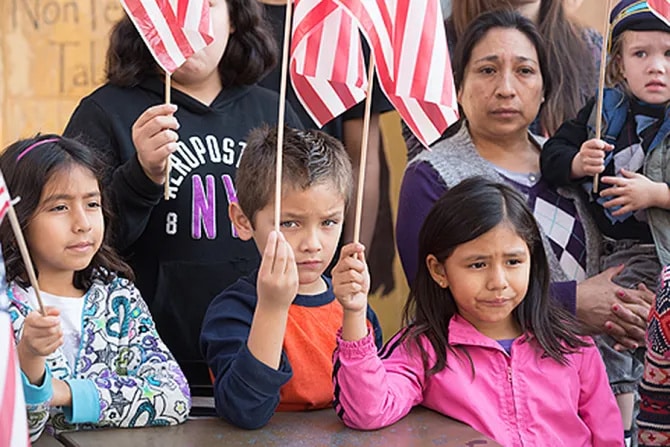 US bishops hold National Migration Week amid migrant crisis – Catholic Telegraph
As executive director of the Texas Catholic Conference of Bishops, Jennifer Allmon has also commented on the "politicization of the lives and dignity of migrants."
"Our nation's reluctance to address the flawed immigration system over the past few years rests entirely with citizens and politicians from both major political parties," she told CNA in a statement. "This polarization has brought us to a moment of crisis; there is a legitimate concern that if each level of government fails to fulfill its respective responsibilities, the common good of communities in our cities, state and nation, and of immigrants themselves, will continue to suffer gravely.
She recognized "an urgent need for legitimate and moral reform of our immigration and asylum system".
"The experience of our Catholic charities and outreach ministries across Texas has taught us that refugees improve the quality of life across the state with their cultures and talents and the gainful employment that keeps them to be added to poverty lists," Allmon said. .
"Nevertheless, it is vital now that all levels of government develop responsible plans to avoid a rush of people flooding our border which could undermine the just rule of law and the ability of governmental and non-governmental efforts to assist migrants, refugees and the residents and poor natives who are already among us.
The American Catholic Church has observed National Migration Week since 1980, while WDMR began in 1914.
"There has never been a more critical time to reflect on the issue of migration, as we witness, for the first time in history, more than 100 million people forcibly displaced around the world," said Bishop Mario E. Dorsonville, Auxiliary Bishop of Washington. and chairman of the Committee on Migration of the United States Conference of Catholic Bishops, said in a statement.
Dorsonville then listed several groups that Catholics should keep in mind.
"I am thinking particularly of the Dreamers, our new Afghan neighbors, of Ukrainians fleeing conflict in their home country, of those on temporary protections who have taken up residence in the United States, and of undocumented agricultural workers, all of whom have a important role to play in building the future of our country, just as they have a role to play in building the Kingdom of God," added Dorsonville.
He concluded, "May this week help us experience a renewed sense of what it means to live as brothers and sisters, traveling the same path together."