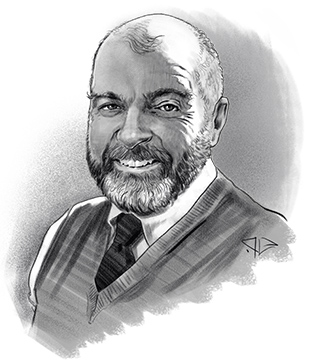 The void in the leadership of the Church: is damnation possible?

By Phil Lawler ( bio – articles – email ) | October 31, 2022
Today I bring you a "guest post" by the late Father Paul Mankowski, SJ, from the new collection of his pseudonymous works, Diogenes unveilednow available from Ignatius Press.
This column originally appeared in our "Off the Record" section, which we later removed. I reproduce it here not only to draw attention to the "Diogenes" collection (although that would be reason enough), but also to offer readers an explanation of how we might approach what is clearly a crisis in our Church.
The chronicle was written almost fifteen years ago; Diogenes often saw beyond the horizon. This explains the approach taken in "Off the Record" (OTR) at a time when we often worried about capricious bishops, but still had full confidence in the soundness of statements from Rome. Today, when statements from the Vatican often raise our eyebrows, our blood pressure, even our righteous anger, the logic exposed by Diogenes is all the more compelling.
If asked to explain what I hope to accomplish with my own commentary on Catholic affairs, I might repeat the last sentence of this column as I present it today.
—Phil Lawler
---
Off The Record has now been around for five years and to the extent of forty-six hundred posts, and it may be appropriate to do what we have not done so far, namely, to explain what we think we are up to.
Although sub-labeled "Newsroom Notes", OTR debuted in an ongoing exchange of emails between half a dozen correspondents ironically exasperated by senior clergymen's failures to conduct themselves as Catholics. , and by their even more distressing failures to enable others to access the spiritual bounty of the Church. Many of our exchanges took the form of routine recriminations about the fragility of this or that homily or pastoral letter or interview, but underneath there was a deeper sense of unease. Bad clerics are vexation, but an understandable and probably inevitable vexation. Harder to explain – and harder and harder to deny – was The Emptiness at the center of Church activity: the lack of concern for souls in danger.
"Work out your salvation with fear and trembling," said Saint Paul, "for it is God who acts in you." OTR was created to tackle the problem (never articulated as such by contributors): how does a Catholic work out his salvation when his pastors do not believe there is a damnation from which he must be saved?
Perhaps no Catholic bishop or religious superior has publicly declared his disbelief that a soul could be lost. Yet it is so rare for a churchman to affirm this doctrine that it is staggering when it happens – think of the stunned outrage in response to the disciplinary actions of Bishops Bruskewitz and Burke.
More disturbing than the silence of the bishops, however, is their "performative" rejection of a saving component of their ministry. Whatever their personal opinions, they act as if it was possible for a man to lose his soul by making a spiritually deadly choice.
Imagine a mother whose toddlers crawl between her legs under the kitchen sink, open various bottles marked with the skull and crossbones, pour the contents into sippy cups, then trotted out drinking the contents, shaking their heads with a puzzled resignation. Either the woman is criminally negligent or she doesn't believe the marked bottles actually contain poison. There is no third possibility.
The strange but indisputable fact is that most Catholic pastors behave like this abnormally nonchalant mother. The Church still labels some bottles with the skull and crossbones – that is, it still professes a belief in mortal (soul-destroying) sins, but even those of its clergy who give their assent verbal to the doctrine of the Church seldom conduct their office in a manner that is intelligible if the doctrine were true.
Let's take a simple example: weekly participation in the Sunday Eucharist is a precept of the Church, a failure that the Catechism qualifies as a grave sin (§§2180, 81). Less than a third of American Catholics respect this precept. This means that more than 60% of the laity are at serious spiritual risk. Yet perhaps one in a thousand clergymen displays the 60% concern they would show toward a person in danger of bodily death. It is likely that many of those 60% are too poorly catechized to commit deliberate mortal sin by skipping Mass, but to the extent that this compounds the failure of the clergy, it should heighten their alarm rather than appease it. By their reckless inaction, they announce that they do not take damnation – their own or that of their flock – as a serious possibility.
Or, think of the Church's missionary work among the unevangelized: once a primary concern for Catholics everywhere, now urgently emptied by the sentimentality that surrounds the anonymous Christian and his exotic spiritualities. The missionaries return to give us good news of wells dug or dances learned, rarely of pagans being baptized.
One can examine ecclesiastical endeavors along any axis of Catholic teaching and find further performative confirmation of the Void. But it was the clergy sex abuse crisis that turned unease into outrage. As shocking as the abuses were in themselves, the truly troubling aspect of the scandal was the reaction to the abuses from bishops, religious superiors and other clergy in positions of power. Official denials, cover-ups, silent transfers of offenders, tough tactics with victims underscored a moral callousness that appalled even civilian agencies. Worse still, and infinitely more difficult to reconcile with the Faith, was the near total lack of concern for the spiritual fate of the victims, perpetrators, and (given their lies under oath) the bishops themselves. OTR was born out of our fledgling attempts to make sense of a Church ruled by sleepy churchmen indifferent to its supernatural ministry. Either they're malicious or they don't really believe anything important is at stake. There's no third possibility.
The OTR has taken the liberty of denigrating "empty-suited" clergy, especially senior clergymen, a denigration that many Catholics of good will find in themselves repellent and contrary to Christian discipleship. We do not doubt the good faith of their objections; we hope our detractors are right and hope that we are the ones who have misinterpreted the situation; we wish them success in proving us otherwise. But the main sticking point is that these critics deny what we find undeniable: the bishops beaming indulgently at little ones with Liquid Plumber in their cups.
Unlike liberals or the factionalist right, the OTR does not call for "structural change" or a state-of-the-art accountability system. Individually, we have each written countless letters of appeal to countless clergymen, but OTR does not circulate manifestos or canvas signatures for petitions. We want the clergy to do today what the Church has called them to do since its beginning. While our dismay sometimes takes on a sardonic form of expression, it should be remembered that we measure our pastors not against some idiosyncratic standard of our own design, but against the promises they themselves have made by taking their functions. The purpose is to alert high and low clergy that some Catholics still rely on these promises, and to remind them – in terms they are likely to remember – that their spiritual duty is not optional.
Ring ! Supporters of CatholicCulture.org weigh in.
All comments are moderated. To ease our editing burden, only current donors are allowed to Sound Off. If you are a current donor, connection to see the comment form; otherwise please support our workand Sound Off!