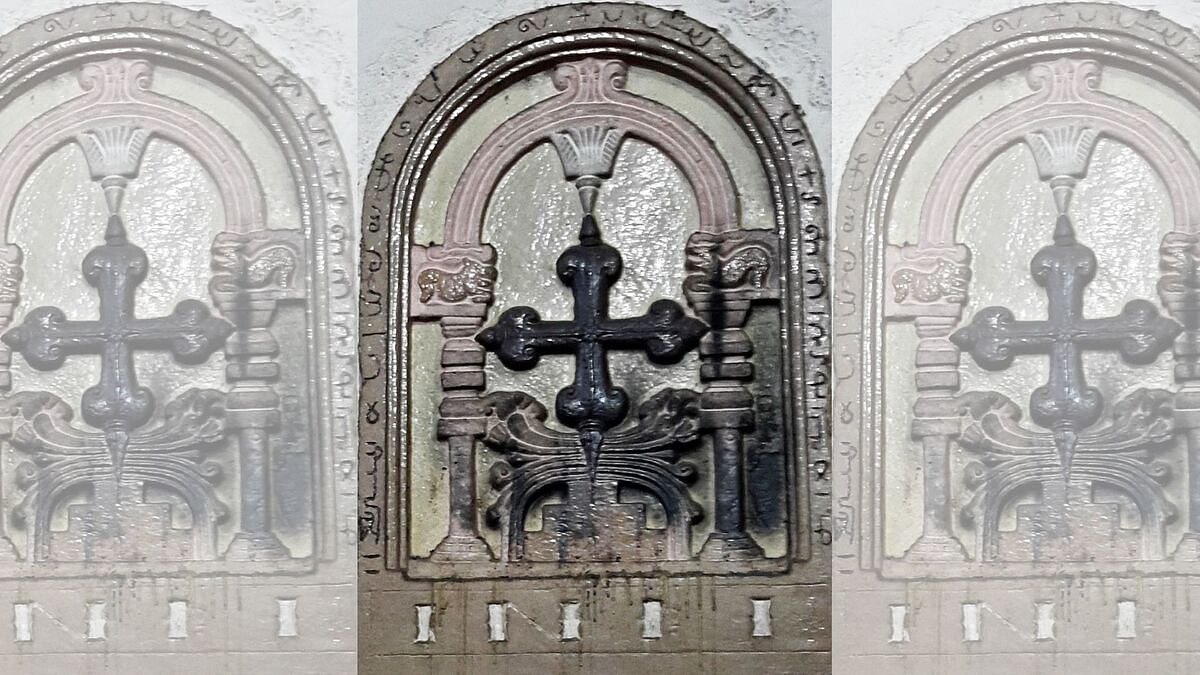 Syrian Christian history of Kerala has a Hungarian saviour: new keyboard, old manuscripts
István Perczel might just be a modern-day Indiana Jones for Kerala's elite of around 60,000,000-strong The Syrian Christian community has spread all over the world. But instead of engaging in shootouts and uncovering lost treasures and ancient cities, the Hungarian scholar of Byzantine history and early Christianity brings to life a forgotten body of scholarly Malayalam literature – one that is written in a script based on the Syriac alphabetan ancient writing system that dates back to the 1st century AD and shares similarities with Phoenician, Hebrew, Arabic and Sogdian.
He is now on a quest to develop an InScript keyboard for the lost script – the first of its kind – for which he had to decode thousands of palm leaf documents forgotten in cupboards. They were arguably the oldest written historical records of Syrian Christians, or Saint Thomas Christians, a community that converted long before colonization and missionary expansion in India.
Most of the records, generally thought to have been destroyed in the 16th century by the Roman Catholic Church, are written in Garshuni Malayalam. While Garshuni is traditionally called Arabic in a Syriac script, the documents Perczel scans are in Malayalam written in Syriac script. It was used by Syrian Christian clerics in Kerala until the beginning of the 20th century.
Some of the manuscripts he found were dusty, eaten by rats, and worn by worms.
Others had been burned with their blackened remains left behind. "In certain
the manuscript libraries, they were very well preserved, as in Thrissur. But in other libraries,
they weren't, or they were revered but not kept," Perczel said.
The digitized recordings along with a keyboard in Garshuni Malayalam script will give millions of Syrian Christians around the world the opportunity to relearn the language and their history, Perczel said.
---
Read also : Food fights are nothing new in India. Medieval texts show mud throwing among Jains, Buddhists and Hindus
---
Make a keyboard
When European Catholic missionaries first arrived in India, they were
surprised to find an existing Christian community in Kerala. A community that
held considerable privilege and prestige and claimed that their ancestors had been
converted by the Apostle Thomas in AD 52.
With his team, Perczel, who is a professor at the Central European University
in Budapest, built a Garshuni Malayalam keyboard to help people
communicate online in the language. "We are working on a keyboard that will help you
type Garshuni Malayalam as if you were typing Malayalam," Perczel said during a Kriti-
SAMHiTA webinar recently hosted by India International Center.
Perczel added that his three-person team was mainly of Indian origin, made up of his doctoral student Saranya Chandran and computer scientist Mujib Rahman. He also said the keyboard would be "freeware and downloadable".
The script has its own Unicode, a universal character encoding standard available on line for free use. His team is also working on OCR and handwriting recognition software for Garshuni Malayalam. This will allow people to familiarize themselves with the script and gain access to historical documents that would have been destroyed.
Perczel has long been fascinated by the world of Syrian Christians in India. In 2000,
he launched a project to digitize, catalog and inventory the manuscripts, which were
once thought to be destroyed at the Synod of Diamper.
---
Read also : How India's coastal Muslims helped it grow into a rich and prosperous economy in medieval times
---
The Synod of Diamper
When Portuguese and other missionaries established the Roman Catholic Church in
In India, the Syrian Christian community has experienced tectonic changes.
One of these important events was the synod of Diamper, which began on June 20
1599 and continued until June 26, 1599. It was a council which brought together the Saint Thomas
Malabar Coast Christians in Kerala with the Roman Catholic Church. He scored
the Latinization of the Christian Church of Saint Thomas.
The Synod of Diamper decreed that four types of "books" – liturgical, biblical,
theological and magical (which dealt with divination) – were to be banned. Therefore,
future generations have been cut off from their past.
Perczel argues that this gave rise to a myth that ancient histories and records were destroyed. "When the Portuguese summoned the Synod of Diamper and condemned
the customs and beliefs and even the books of the Saint Thomas Christians (or Syrian Christians) as heretics, they basically destroyed the past and the history of this community," Perczel said.
But they were not all destroyed. Traces of the forbidden material in the Garshuni Malayalam script are still found in Syriac manuscripts. That said, the ban and its subsequent impact affected scientific research. "The general belief is that we know very little about the beginnings of this community because everything was destroyed in Diamper," he said. In reality, most of what was condemned was actually preserved.
According to Perczel, the lack of information that European academics often talk about stems from the inability of researchers to decipher this "linguistic richness", knowing only the languages ​​with Latin script, which the community offers them. Only local historians will be able to reveal what Syrian Christians watched over for hundreds of years.
---
Read also : "The Indians never invaded" is a myth. Guptas, Cholas, Lalitaditya Muktapida were conquerors
---
Digging up secrets
Two decades ago, Perczel made it his mission to unearth these documents and uncover their secrets. No less than 124 modern Syriac and Aramaic manuscripts have been found with the Mar Aprem Mooken, the Metropolitan of the Assyrian Church of the East or the Syrian Chaldean Church. "Mar Aprem started manuscript studies in Kerala," said Perczel, who completed digitizing the Mar Aprem manuscripts in 2005.
Some manuscripts, originally believed to be destroyed, were found in the Varapuzha Carmelite Library in Kochi. They may have been confiscated by the Portuguese and sent to the library instead or hidden there before the synod. Another 112 manuscripts were found in the Carmelite Monastery of Mary Immaculate (CMI) at Mannanam in Kerala and digitized in 2008. In 2016 the team completed the archiving, cataloging and indexing of all manuscripts in the monastery and the library of Mar Aprem. It's a labor of love that's far from complete.
In some, hymns had been copied verbatim from manuscripts. In others, the ideals of
banned books have been paraphrased and localized.
But in almost all the manuscripts to which he had access, Perczel found that the names of their
the authors were missing. This may have been done to hide the text from the Portuguese who would have otherwise destroyed them.
---
Read also : Buddhist Asia had globalized writing 1,000 years before the West. It spread from northern India
---
A continuous effort
The local priests were the guardians of these documents. Perczel explained how Father Ignatius Payyappilly, a Catholic priest belonging to the Archdiocese of Ernakulam Angamaly, Kerala, preserved the two collections of manuscripts found at Mar Aprem and CMI Monastery by extensively studying ancient techniques for preserving the paper, palm leaves and other materials. .
These were thousands of documents and palm-leaf manuscripts in
The Malayalam scripts that illuminate the cultural, religious and political history of
Syrian Christians. "Our job was not only to digitize but also to renew the conditions in which these manuscripts are kept," Perczel said.
One of the most exciting discoveries was the Ktaba d-Pal or (Book of Lots) which contained 49 Syriac characters in a grid. Each character corresponded to an issue or a fate for the one assigned to it, like a tool of divination. It was banned by the Synod. But now, with better access to Garshuni Malayalam and a keyboard in sight, the Ktaba d-Pal will one day be available to everyone.
(Editing by Zoya Bhatti)