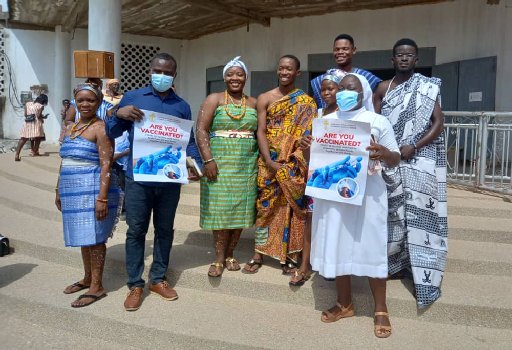 Sisters debunk myths and educate Africans to get vaccinated against COVID-19
ACCRA, Ghana — Elijah Nayoo received his first dose of the Moderna COVID-19 vaccine in Akrofu, a town about 84 miles northeast of that country's capital. His decision to get vaccinated follows a massive education and awareness campaign by nuns who encouraged him and thousands of others to get vaccinated against the virus.
Nayoo received the vaccine at Mater Ecclesiae Hospital in Akrofu, run by the Church's Sisters of Mary Mother.
Previously, Nayoo believed the vaccine was unsafe and had serious side effects on the human body, and he told Global Sisters Report that he had sworn never to take "the vaccine", as it is called. in many African countries.
"I couldn't believe that one day I would get the COVID-19 vaccine because I have always had a negative perception of vaccines," said the 36-year-old father of two, who works as an accountant in Accra. He received his first dose at the end of January.
Religious sisters in this West African nation of more than 31 million people have been working hard to debunk rampant COVID-19 vaccine myths, ranging from denial that the virus exists to various false side effects. As of February 16, just over 15% of the country's population was fully vaccinated, according to the Coronavirus Resource Center at Johns Hopkins University.
"I am grateful to the sisters for their key intervention in containing the pandemic," Nayoo said, explaining that thanks to the education he received from the sisters, he was able to talk to his family members and friends to take their blows, which they voluntarily received without fear or panic. "The campaign messages changed my mind, and other people's minds, to take the vaccine."
Sister Lucy Hometowu, Superior General of the Sisters of Mary Mother of the Church, said vaccine myths in Ghana and other African countries have led many citizens to forgo vaccinations as virus cases and deaths were rising rapidly on the mainland amid a fourth wave of infections.
"We have undertaken educational campaigns to debunk the myth surrounding vaccines," said Hometowu, who is also an obstetrician and gynecologist.
She said when the sisters launched the Catholic Sisters COVID-19 Vaccine Ambassadors campaign, people were reluctant to get vaccinated, despite government efforts to ensure there were enough doses in the system. country.
The campaign, spearheaded by the Conference of Major Superiors of Religious in Ghana in collaboration with the Vatican COVID-19 Commission, aimed to raise awareness, educate, sensitize and undertake advocacy on vaccine safety and adherence to protocols. The Conrad N. Hilton Foundation, an American charitable foundation and main funder of Global Sisters Report, is sponsoring the initiative.
Hometowu said nuns across the country are using the Vatican's toolkit of consistent, evidence-based communication strategies for campaigns to "counter COVID-19-related misinformation and disinformation and ensure the dissemination of information." accurate on life-saving vaccines".
The immunization education effort by the Catholic sisters in Ghana started at the same time in Kenya, Uganda and Zambia. The program has since been extended to other countries, including India, Tanzania and Congo.
Thousands of people have traveled to various centers run by the sisters to receive the vaccine and avoid contracting the deadly virus, said Sister Jane Wakahiu, associate vice president of program operations and head of the Catholic Sisters program at the Foundation. Hilton.
"The project was very successful. Thousands of people agreed to be vaccinated, because they saw nuns themselves being vaccinated, and nothing bad happened to them, which is a success for me," said Wakahiu, a member of the Little Sisters of Saint Francis.
She said the foundation has allocated $10 million for the program so sisters working in health facilities can learn more about COVID-19 and vaccines and spread the same message to the communities they serve. The campaigns involved sisters visiting the homes of vulnerable people, slums, rural communities and shopping malls, and mobilizing community leaders, churches and the media.
In Ghana, for example, between December 18 and January 14, sisters convinced more than 1,700 people to get vaccinated. Ghana has so far administered more than 12 million doses of coronavirus vaccines.
"Through the education and advocacy of the sisters, people have changed their minds and been vaccinated," said Sister Mary Consolata Ntenye of the Church's Sisters of Mary Mother, who works with Sister Hometowu. "The government, politicians and medical professionals in Ghana have put a lot of effort and resources into getting these vaccines for the nation, and as citizens it is our civic duty to get vaccinated for us. protect and protect others, our families, friends, loved ones, colleagues and above all to put an end to the pandemic in the world.
In Zambia, the program is administered under the auspices of the Zambia Association of Sisterhoods. The southern African country of over 18 million people has so far administered around 2.5 million doses of COVID vaccines, with around 9.8% of the population fully vaccinated.
Sister Astridah Banda, a member of the Dominican Missionary Sisters of the Sacred Heart of Jesus, said many people have been hesitant to take the vaccine due to a lack of adequate information about the safety and efficacy of the vaccine.
Banda, a social worker by profession, ran a radio show to share health information about the pandemic and dispel vaccine myths.
In Kenya, sisters from the Association of Kenya Sisters raised awareness and challenged myths around COVID-19 vaccines through radio broadcasts, presentations, asking priests to include information during masses and distributing printed materials to reach about 5 million people. . The association worked through 80 sister-run health facilities with 240 sisters across the country.
The East African nation of nearly 54 million people has administered more than 15.4 million doses of COVID-19 vaccines, and 13.5% of the population is fully immunized.
"Immunization coverage has increased in our hospitals," said Sister Regina Nthenya Ndambuki, a member of the Sisters of St. Joseph of Mombasa, who is also a nurse and psychological counselor. "Before, some of our health care (facilities) could only vaccinate 10 people a day, but today the number has increased to 50 to 70 a day."
– – –
Ajiambo is the Africa/Middle East correspondent for Global Sisters Report. Avevor contributes to the Catholic News Service and the Global Sisters Report. Silimina is a multimedia journalist based in Lusaka, Zambia.