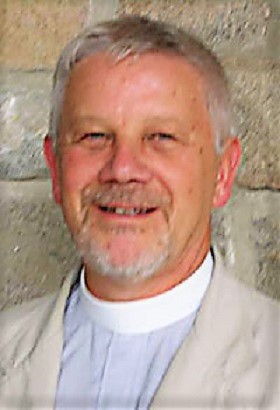 Reverend Martin Smith will lead All Saints services on July 10 and 17
Well known throughout the Episcopal Church as a writer, retreat leader, spiritual advisor and teacher, the Reverend Martin Smith will be leading services at All Saints by-the-Sea for the next two weeks. Holy Communion will be offered at 8 a.m. and 10 a.m. Mr. Henry Lowe will provide our music on July 10th and Linekin Bay resident Timothy Wissler will share his organ on July 17th. As we continue to navigate the pandemic, we honor diversity in our congregation as there will be some who wish to continue wearing masks and others who will feel safe not wearing a mask. All are welcome to join in worship. KN-95 masks will be available at the chapel. Coffee time will be reinstated after the 10 a.m. service. People of all faiths are welcome to attend services.
Born in England, Reverend Smith received his BA and MA from Oxford University. After his ordination, he served several parishes as well as the Society of St. John the Evangelist, the oldest male religious order in the Anglican Communion. He transferred to the American branch of the Society in 1979. Reverend Smith retired from St. Columba's Church in Washington, D.C. in 2012. Since then he has been in demand as a teacher and leader. workshop where his engaging style and vast knowledge have enriched countless spiritual seekers. He is the author of numerous books on contemporary spirituality. Maine holds a special place in his heart as he is a dear friend of Bishop Thomas Brown and considers the Boothbay area a special summer home.
Tuesday morning porch talks with Reverend Smith are always a highlight of the season with topics such as the Bible passage of the week and many other spiritual issues, with Reverend Smith sharing his many insights and thoughts with people. present. These discussions will take place on Tuesday, July 12 and 19, from 9:00 a.m. to 10:00 a.m. All Saints' Day participants as well as members of other area churches are encouraged to attend.
All Saints by-the-Sea is on Southport Island on All Saints Road about two miles to the left heading south on Route 238. A sign for the Episcopal Church marks the side of the road. Parking is available along Route 238 or, if required, in the limited number of disabled parking spaces on All Saints Road. A golf cart will transport people from the handicapped lot to the steps of the church. You can also come to church by private boat. The very beautiful and simple wooden chapel is open for quiet prayer and meditation during the week.