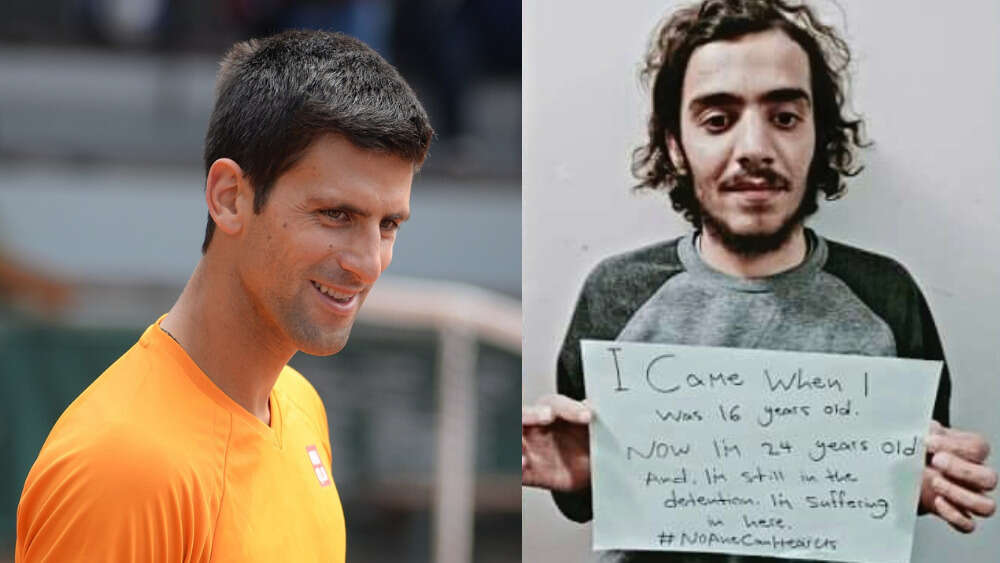 Religious leaders campaign to end indefinite detention following Djokovic saga
A group of Australian faith leaders launched a campaign in Melbourne this morning called #SetThemFree, which urges Scott Morrison and Anthony Albanese to work together to free asylum seekers in detention.
The campaign picks up on the international attention drawn to the plight of asylum seekers detained in Australia by the saga of Serbian tennis star Novak Djokovic, who was detained at Melbourne's Park Hotel after his visa to enter Australia was revoked. Australia. Mehdi Ali, an Iranian immigrant who arrived in Australia aged 16, used media interest in the tennis star's experience to highlight his own plight of being locked up for nine years with no prospect of release .
As the Australian Open reaches its climax, Baptist minister Tim Costello spoke at St Paul's Cathedral in Melbourne on behalf of more than 30 faith leaders who jointly urged the Prime Minister and the head of the opposition to restoring Australia's reputation as a compassionate country. However, there are no faith leaders among the signatories, so it is unclear how substantial the support is.
The campaign launch featured a short film #free them by acclaimed director Richard Keddie (Ride like a girl, Eccentric, Little fish) and narrated by Tim Costello. The film sheds light on the plight of refugees still held indefinitely, including in Melbourne's notorious Park Hotel.
"Refugees have been sacrificial lambs to border control and immigration policy." –Tim Costello
"Compassion is at the heart of every faith," Costello said. "It is significant that faith leaders are urging the Prime Minister, a man of faith, to meet the Leader of the Opposition and do something together that is ultimately good for all Australians – to agree on the release of refugees and asylum seekers held in indefinite detention," he said. noted.
"There is currently no legal end to indefinite detention. Refugees have been sacrificial lambs to border control and immigration policy for many years. This could be a watershed moment in which Australians can stand feel good about taking a softer approach.
"In his maiden speech to Parliament, Mr Morrison said he drew from his faith 'the values ​​of loving-kindness, justice and righteousness, acting with compassion and kindness, recognizing our common humanity and holding account of the welfare of others; fight so that everyone can realize their human potential and eliminate all unjust obstacles that stand in their way". We call on the Prime Minister to build on these values ​​now.
President of the Sikh Interfaith Council of Victoria, Jasbir Singh, said refugees and asylum seekers had sought help from Australia but instead lost years of their lives in detention. "There is now a great opportunity for our political leaders to bring an end to inmates and the Australian community," he said.
Sister Brigid Arthur, coordinator of the Brigidine Asylum Seekers Project (BASP), said: "The Prime Minister and the Leader of the Opposition have the power to release them. It's a question of whether they will open their hearts and take action, not a question of what to do.
The #SetThemFree movie can be viewed on Twitter at @SetThemFree_AU.
Campaign signatories
Bishop Philip Huggins (Anglican Church)
Imam Alaa Elzokm (Elsedeaq Mosque Heidelberg)
Rabbi Shamir Caplan (Beit Aharon Synagogue)
Harold Zwier (JCMA)
Rabbi Gabi Kaltmann (ARK Center)
Jasbir Singh Suropada (Chairman – Sikh Interfaith Council of Victoria)
Makarand Bhagwat (Chairman – Hindu Council of Australia) Rev. Bhakata Dasa (Vaisnava Hindu community)
Libby Saunders and Brigid Arthur – Brigidine Asylum Seekers Project (BASP)
Ian Smith (JCMA)
Tim Costello (director – Micah Australia)
Chris Parnell (interfaith minister)
Graeme Blackman (Chair – VCC)
Bishop Paul Barker (Anglican Church)
June Factor (Founder – Befriend Children in Detention)
Islamic Council of Victoria
Sikh Interfaith Council of Victoria
National Council of Australian Imams
Jewish Community Council of Victoria
Elsedeaq Islamic Society – Heidelberg Mosque
Hindu Council of Australia
Australian Islamic Center – Newport Mosque
International Society for Krishna Consciousness
Vaisnava Hindu Community
Council of Christians and Jews
Islamic Society of Victoria – Preston Mosque
Beit Aharon Synagogue
Bendigo Islamic Community Center – Bendigo Mosque
Religions for Peace Australia
Al-Wasat Newspaper
Geelong Islamic Society
Islamic Association of the Monash Mosque
SistaHub
Shepparton Interfaith Network
Salam Fest
Melbourne Muslims
Melbourne Multicultural Center Mosque
Association of Muslim Professionals
Indonesian Muslim Community of Victoria
Somali Australian Council of Victoria Bosnian Australian Islamic Center Deer Park
Albanian Australian Islamic Society – Carlton Mosque
Muslim health professionals
Muslim mental health professionals
Hallam Mosque
Darusalam Islamic Society Mosque
Islamic Society of Bosnia and Herzegovina, Noble Park
Afghan Islamic Center – Omar Farooq Mosque
green crescent australia
Australian Turkish Institute
Email this story
Why not send it to a friend?
To share