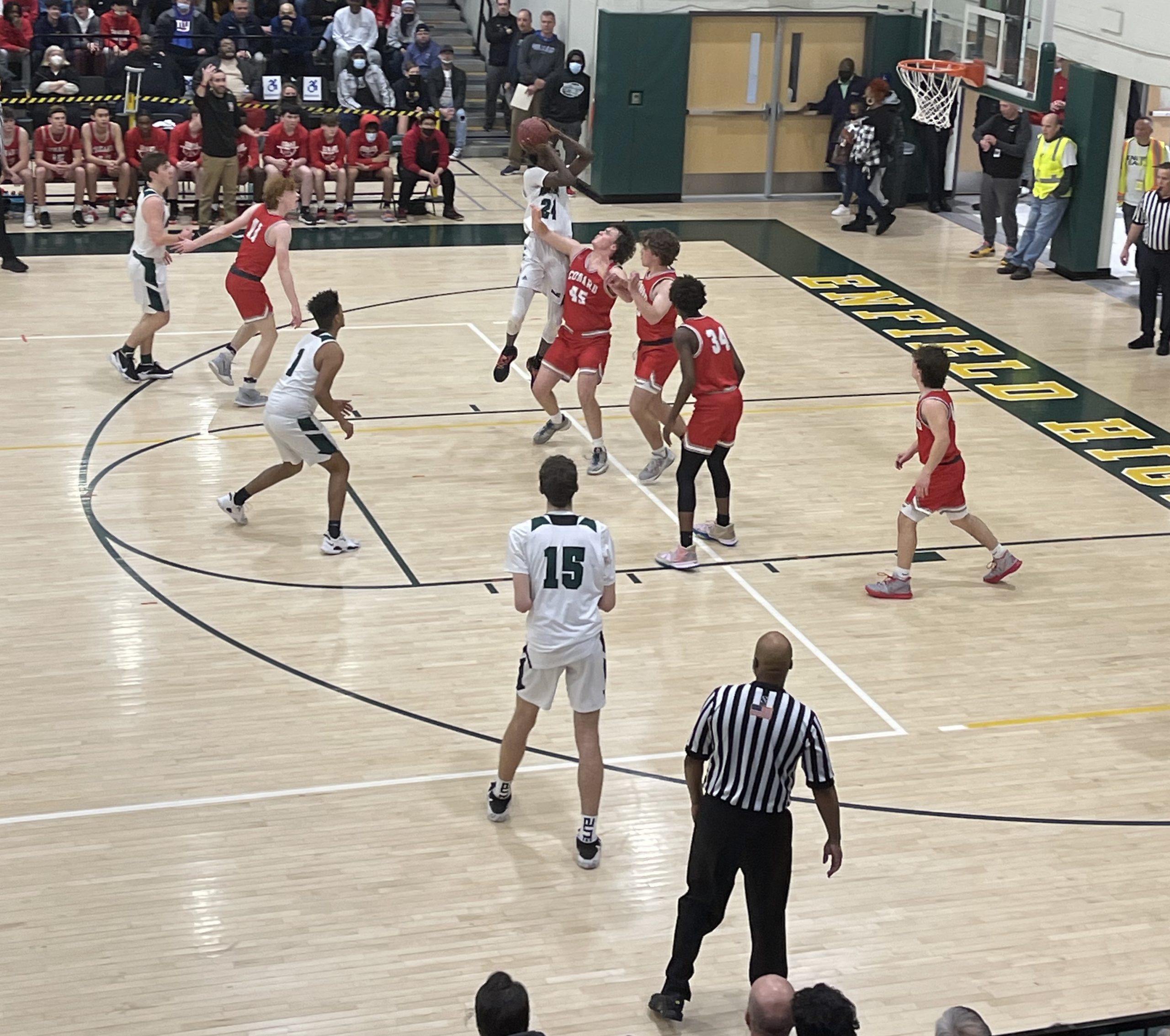 Northwest Catholic defeats Conard in CCC semifinals – We-Ha
Two West Hartford teams met Tuesday night in the semifinals of the CCC tournament, with Northwest Catholic defeating Conard.
By Ronnie Newton. Pictures of Liam Sweeney
Two West Hartford teams met on neutral ground at Enfield High School on Tuesday night in Game 2 of the Central Connecticut Conference (CCC) tournament semifinals, with the No. 2 seed Northwest Catholic heading to the final with a 66-50 win.
The game was tied 29-29 at halftime, but Northwest Catholic, behind a 22-point effort from Fairfield University-bound senior Matt Curtis, dominated in the second half and pulled away for the win.
NWC had already beaten Conard this season when the teams met in February – one of only two previous losses for the Chieftains before Tuesday's game. The other was a 64-63 one-point loss to Farmington on January 13.
Senior Jalen Hamblin (22 points) and second Riley Fox (20 points) were Conard's top scorers on Tuesday night.
The Lions (22-1) will take on top seed Bristol Central (23-0), managed by UConn-bound Donovan Clingan, in the CCC final Thursday night at 7 p.m. at Enfield High School.
Conard, now 20-3 on the season, and posting the best record for the men's basketball team in school history, earned a No. 3 seed and first-round bye in Division II of the Connecticut Interscholastic Athletic Conference (CIAC) state tournament, which begins next week. Conard will host Monday night contest winner Westhill (#14) against Xavier (#19) on Wednesday March 9 at 6:30 p.m.
Northwest Catholic, seeded No. 2 in Division II, will host the winner of Simsbury (No. 15) and Greenwich (No. 18) on Wednesday, March 9 at 6:30 p.m.
Do you like what you see here? Click here to subscribe to the We-Ha newsletter so you'll always be up to date with what's going on in West Hartford! VSClick the blue button below to become a supporter of We-Ha.com and our efforts to continue producing quality journalism.