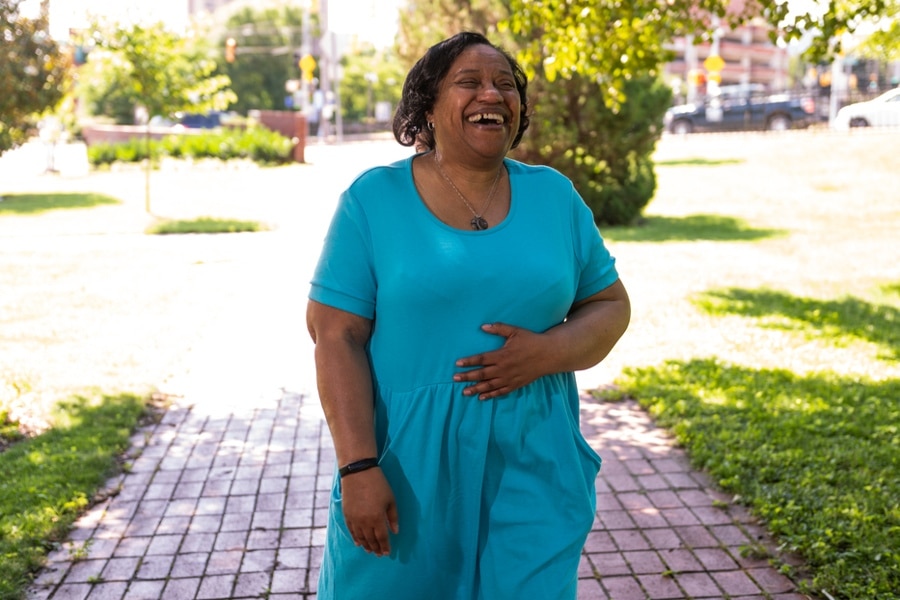 New head of Office of Black Catholic Ministries brings social justice experience
Click play below to listen to a radio interview with Adrienne Curry. The story follows
As Adrienne Curry prepares to take on a new role as director of the Office of Black Catholic Ministries for the Archdiocese of Baltimore, she hopes to apply her vast background in the social justice movement and pastoral experience to support the Black Catholic community in Maryland.
"The bishops have said that racism is a sin and it is an affront to the dignity of the human person," said Curry, a Chicago native who recently served as director of social action for the diocese. of Youngstown, Ohio," but, as they say Catholic Social Teaching is our best kept secret. So part of my job will be to educate people on the principles of Catholic Social Teaching and apply them in the day-to-day life. So certainly eradicating racism is part of that."
During the last year, Curry has worked on his doctoral thesis in Lexington Theological Seminary in Kentucky, studying anti -racism in the diocese of Youngstown. She begins her new role in Baltimore on July 5, taking over from Sherita Thomas, the office's acting director.
Announcing the appointment June 17, Baltimore Archbishop William E. Lori said Curry will "advocate for the needs and concerns of the black Catholic community and work to strengthen the efforts of local parishes to remove barriers to evangelism, especially the barriers of racial prejudice".
The Archbishop said Curry will be a member of the Archdiocese's Racial Justice Journey Coordinating Council and will help implement his call for racial justice which was discussed in his two pastoral letters, "The Enduring Power of Dr. Martin Luther King Jr. Principles of Nonviolence" and "The Journey to Racial Justice: Repentance, Healing and Action".
Curry has held various positions in the Archdiocese of Chicago, including program director for Catholic Relief Services, the American bishop's international relief agency based in Baltimore. She worked in Lexington as a pastoral associate for parish social ministry. In Youngstown, his responsibilities included overseeing programs for the Diocesan Office of Social Action and managing grants for the Catholic Campaign for Human Development.
Curry told Catholic Review that she was delighted to come to an archdiocese considered as the cradle of black Catholicism in the United States. She loves the rich history of Black Catholics and hopes to raise awareness throughout the Catholic Church of the contributions of Black Catholics.
It is essential that black voices are heard in the Catholic Church, said Curry, and that the community is represented at all levels.
"It is very important that people of color are at the table at the start-not afterwards, not after things were decided," she said. "We need to be there from the start so we can help set the tone and be part of the agenda."
Curry said she is encouraged that the Archdiocese of Baltimore has made racial justice a priority and that activities such as parish racial justice circles are already making progress in promoting cross-cultural understanding.
"You have to meet people where they are," she said, "and you have to see people as people. We all have things in common. »
Curry said she hopes parishes will build on the evangelism work already underway to make their faith communities as welcoming as possible.
"There are a lot of people who are not church-goers," she said. "So go out and meet and greet people. Have a youth basketball night or something. Do something to invite people.
Curry, who holds a master's degree in theology from the Catholic Theological Union of Chicago, said she plans to spend a lot of time visiting many parishes in the archdiocese and does not initially plan to enroll. in one parish.
"I want to meet people and talk to pastors," she said. "It's important to me to hear what people need and want before I do anything else."
Email George Matysek at [email protected]
Read stories about racial justice
Copyright © 2022 Catholic Review Media
To print