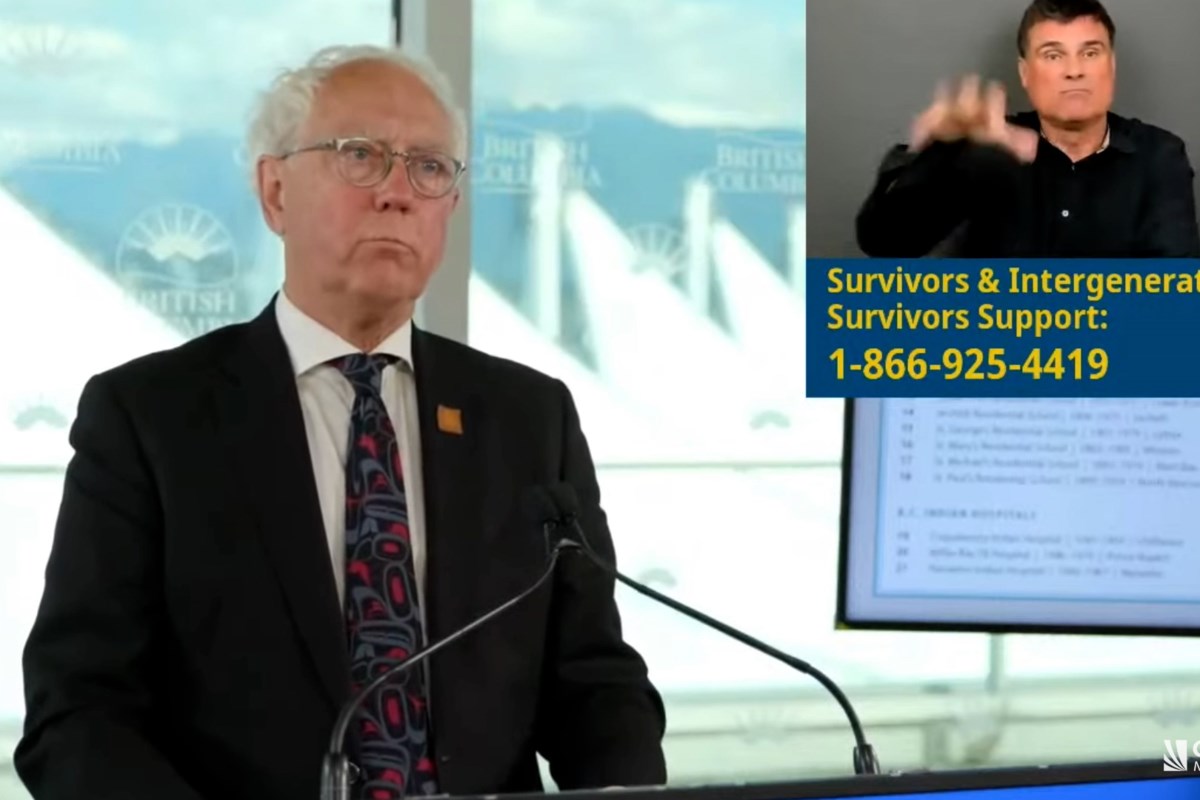 More funding to investigate residential schools, hospitals
The provincial government will provide $ 475,000 to each of the 18 residential school sites and three hospitals in British Columbia for investigation and exhumation of the graves of these schools, the Minister of Indigenous Relations said on July 20. and Reconciliation, Murray Rankin.
"I mourn families and communities as we grapple with recent discoveries and discoveries to come," Rankin said.
"We know it will take time, technical resources, and emotional and cultural support to provide what nations need to get through this difficult time, and these funds and links are designed to support them in the way they need. . "
Rankin agreed that funding from British Columbia is certainly not enough for all the work. He said he intended to start this work and fill the funding gap in Ottawa.
He said the funds are intended for community-led strategies to identify, investigate, document, maintain, protect and / or commemorate sites where remains may be located. He said the funding would be done in collaboration with Ottawa and community leaders to ensure communities have the necessary resources.
An additional $ 2 million is available to ensure Indigenous service providers and survivor support networks have the resources to address the immediate wellness, cultural and mental health needs of Indigenous peoples of British Columbia.
Details came with the announcement of the appointment of Charlene Belleau, former Chief of the Esk'etemc First Nation and former President of the First Nations Health Council, and Lydia Hwitsum, former Chief of the Cowichan Tribes and former President of the First Nations Health Authority, as First Nations Labor Liaison Officers.
Their job is to help communities seen as custodians of residential school sites to establish links with provincial and federal agencies, advise the provincial government on activities related to former residential school sites and hospitals, and serve as a communication link. between communities and the government of British Columbia. .
"We stand in solidarity with alumni, survivors, intergenerational survivors and their families," said Belleau. "We are ready to support communities as they do the hard work of honoring the spirits of children who have never returned home. "
"This is an important step for British Columbia to help support First Nations as we continue this important and heartfelt work," said Hwitsum.
Rankin and Premier John Horgan announced on July 15 total funding of $ 12 million for research on former residential school sites as well as mental health and cultural supports.
The announcement came after the Tk'emlúps te Secwépec First Nation in Kamloops said on July 15 that approximately 160 acres on the grounds of the former Kamloops Indian Residential School still need to be searched.
On May 27, the head of Tk'emlups te Secwepemc, Rosanne Casimir, announced that 215 graves had been located on the school grounds. She said the discovery was made with the use of GPR.
Earlier this month, the Penelakut Tribe said about 160 undocumented and unmarked graves had been found at the site of the Kuper Island boarding school, officials said in a statement.
And, the Ktunaxa First Nation ʔaq̓am Indigenous group announced at the end of June the discovery of 182 graves near Cranbrook.
Other Aboriginal groups, such as the William Lake First Nation, are also doing ground penetrating radar work.
There were 18 residential schools in British Columbia, many with cemeteries.
Rankin said requests for funding would be expedited. There is no deadline for grants, and the province is committed to partnering with communities every step of the way to ensure funding is flexible, responsive and easy to access.
Indigenous leaders have already said the $ 12 million will not be enough for the work that needs to be done. This can also include drone lidar (detection and telemetry by light) and this is prior to exhuming bodies, taking DNA from dead and surviving relatives and researching the families of those possibly buried on them. Site (s.
While many point to the Vatican to blame, it was not just the Catholic Church that ran schools across the country. The Canadian government operated some schools in partnership with the Anglican, Methodist, and Presbyterian churches, among others. Some 150,000 Indian, Inuit and Métis children between the ages of 4 and 16 have been forced into institutions designed to assimilate them while suppressing their language and culture.
For immediate assistance to those who may need it, the National Indian Residential Schools Crisis Line is available 24 hours a day at 1-866-925-4419.