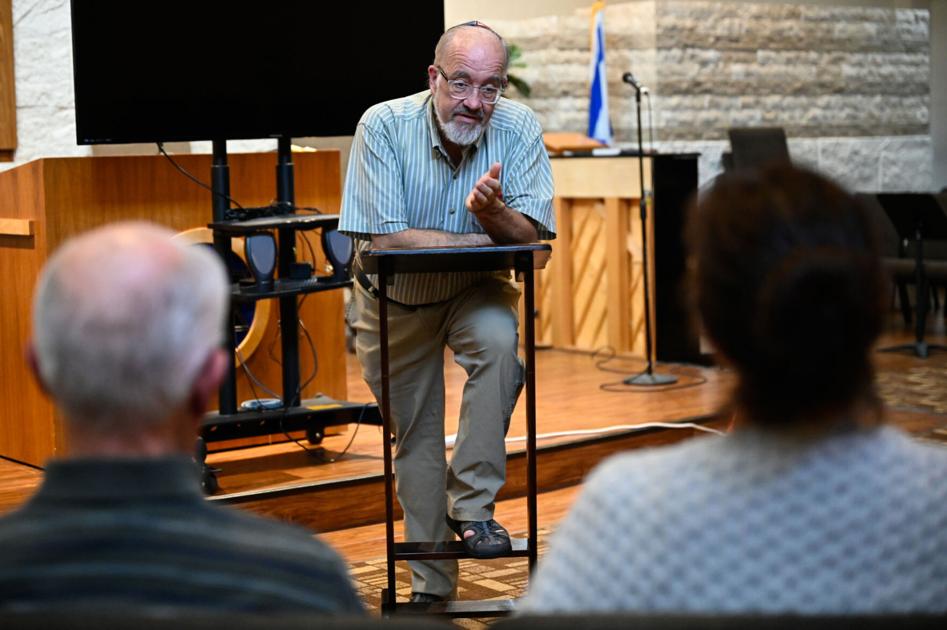 Keeping it Kosher: 'Taste of Judaism' invites non-Jews to learn about the faith (with tasty treats) | Education
Rabbi Geoffrey Dennis has assembled a small group for the second session of "A Taste of Judaism" offered this summer by Congregation Kol Ami, the only synagogue in Denton County.
The group was made up entirely of women. A few scholars who said they could convert to Judaism sat in the worship space, with a woman just wanting to learn more about the faith and a Muslim woman who said she missed her group of interfaith women in New York which brought Jewish and Muslim women together for dialogue and friendship.
Rabbi Geoff was clear: "A Taste of Judaism" is not meant to convert people to the faith.
"Judaism is not a faith of conversion," he told them. "This program was started so that Jewish communities could put themselves in context with and for the non-Jewish communities around them. "
Dennis said the Flower Mound congregation has offered the course every three or four years for the past two decades. As it turns out, in 2021, Jews in America are facing a wave of anti-Semitism. Suspicion and hostility seem to come from across the ideological spectrum, Dennis said.
"I will never miss an opportunity to give people an overview of Jews and what they do," Dennis said. "This program is not new, but it is one of those programs that can respond to any time we find ourselves as Jews. It's a chance to see and discuss what's going on.
What is happening to the Jews in North America? QAnon conspiracy theory and the online community have reignited centuries-old stories and prejudices about Jews, lone wolf attackers were radicalized by far-right online forums, and progressive young Democrats in the House of Representatives drew attention to the sentiments critics say cross the line from simple criticism of Israel to anti-Semitism.
"There is sometimes deadly anti-Semitism coming from the right and a certain anti-Israel sentiment on the left which can kind of fuel a broader anti-Semitism," Dennis said. "We see it coming from different places. "
An answer to the problem?
Hospitality. "A Taste of Judaism" is primarily a three-session survey of faith, covering spirituality, ethics and community. But it's served with a side of Jewish treats. Mostly candy.
The Union of Reform Judaism, a religious association for Reformed Jews in North America, offered the outreach program more than 20 years ago, when Rabbi Dennis was a rabbinical student.
"I can say I was one of about 20 instructor pilots who determined what it looked like," he said. "There is a basic model coming out of the Union for Reform Judaism. But each rabbi probably has his own interpretation. You're never going to make the rabbis stick to a script.
Sessions last about two hours, and there are no homework or tests. Dennis told attendees that Jews are part of a broad faith, from Orthodox Judaism to Reform Judaism, which includes the Kol Ami congregation. Judaism is a faith of "deeds, not beliefs," Dennis said, and although the faith requires Jews to believe in the existence and unity of God, religious leaders do not excommunicate people for reasons of faith. doubts and questions.
"Jews are comfortable with ambiguity," Dennis said. "You don't really have to believe anything to be a part of the community. "
Jennifer Allen, a mom to Flower Mound, said she came to the program because she was considering converting.
"The best way to describe myself is Christian," Allen said. "We've been to some churches in the area, but really I'm disillusioned with the way they've acted. I see the things that Christians are doing now and to me it is not Jesus.
Allen told Farwah Raza, a Muslim from Flower Mound, that she was particularly put off by the certainty she saw among so many Christians.
"I think it's a little silly to think that we know everything, because nobody knows it," Allen said.
Raza said she grew up in a Muslim home open to other ideas and faiths, and which welcomed neighbors and friends of all faiths.
"I saw [the 'Taste of Judaism' class advertised] on the Flower Mound neighborhood, "Raza said, referring to an online group. "I was part of a group in New York, the Sorority of Salaam Shalom. It was for Jewish and Muslim women and it was such a great group. Religion is like art. You can look at a painting and see something so different from what someone else is seeing.
Yvette Elliott of Flower Mound said she signed up for the program out of curiosity.
"I believe Texas is stronger when we know each other," she said.
This summer's sessions were smaller than usual, which Dennis attributes to the pandemic.
"People are still uncomfortable getting out of their bubbles a bit," he said.
Dennis said the program is a small outreach program and it's hard to guess if community initiatives like this shed much light on a world that seems dark and hostile.
"The truth is that because Judaism is not a religion of conversion, many people might only meet us through a social service or a social action project. People meet us when we participate in a Habitat for Humanity project or an interfaith project. It's good to get out of our bubble. It is helpful to interact with the community as Jews.
Last month, Flower Mound hosted its first LGBT Pride event.
"I was bound and determined that the Jewish community should be represented," Dennis said. "I have a rainbow Jewish flag and a rainbow Texan flag. We gave people oranges and talked to everyone who stopped. "
Dennis said the congregation did not elicit much surprise from attendees who stopped in front of the synagogue booth.
"The queer community is quite aware that the reformist world is asserting itself," he said. "And the Orthodox community is more to live and let live. "
The pride event placed the congregation in a larger pool of people than "A Taste of Judaism," but Dennis sees the program more as a cumulative initiative.
"There must be tens of thousands of people in synagogues across the country who have the program. Some do it every year. i speculated [people] thousands have passed, "Dennis said.
LUCINDA BREEDING can be reached at 940-566-6877 and via Twitter at @LBreedingDRC.