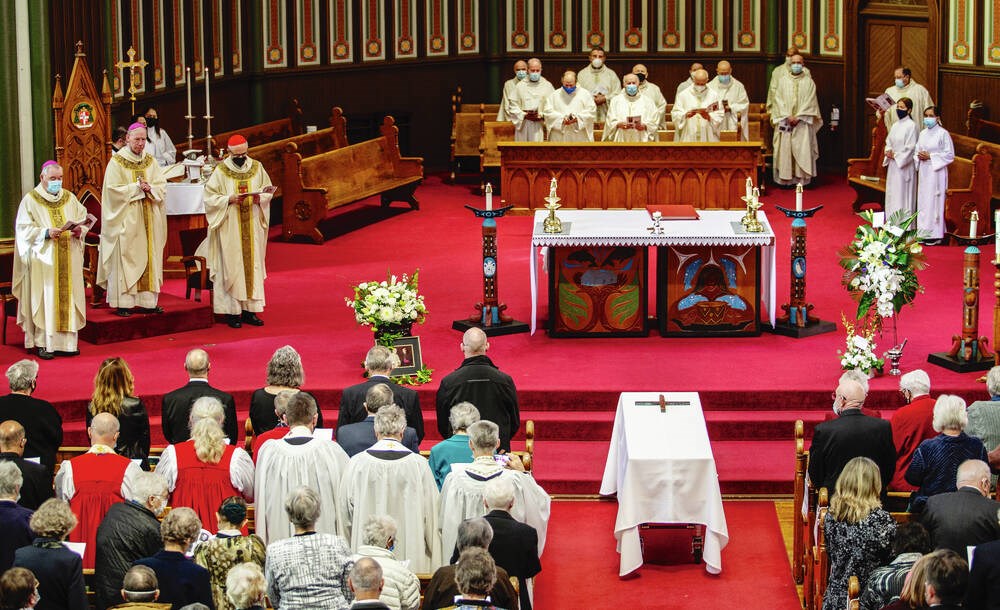 Funeral of former Catholic Bishop Remi De Roo
His funeral was held on Saturday at St Andrew's Cathedral in Victoria
Remi De Roo, the former Catholic Bishop of Victoria, was remembered on Saturday as a church 'prophet and pilgrim', a pioneer of reform and an advocate for social justice who could bring together groups of people with beliefs diverse in thoughtful dialogue.
De Roo became the youngest Catholic bishop in the world at 38 and spoke at all four sessions of Vatican II in the early 1960s, which produced a series of documents to guide the life of the Catholic Church in the modern age – among them the hierarchical structure of the church, its responsibilities in a suffering world, its place in relation to other religions and for the increased role of women.
Pope John XXIII, who named De Roo bishop, called on the Second Vatican Council to "open the window" to the Catholic Church.
De Roo was an advocate of married male Catholic priests and the ordination of women to the priesthood. He also made contraception an issue at Vatican II and was seen as pro-birth control, said Patrick Jamieson, who has written three books on De Roo.
De Roo died on February 4 at age 97.
His funeral on Saturday at St. Andrew's Cathedral drew around 350 people – limited due to pandemic protocols. They looked at a coffin draped in white linen with a simple wooden cross brought into the cathedral and placed in front of the altar. Friends, family and parishioners gathered to celebrate De Roo's life along with Anglican clergy and Jewish leaders, Catholic clergy, two bishops, an archbishop and a cardinal from Rome.
Cardinal Michael Czerny told the gathering that he brought "warm greetings" from Pope Francis, "who joins us in mourning and thanksgiving, and who sends his blessing."
Czerny, the pope's social justice leader, said he had been "inspired and challenged" by De Roo over the decades they knew each other.
"Remi was decisive, outspoken and even abrasive at times," Czerny said. "He was also complex, controversial and true to his beliefs to the end. Above all, he was a Conciliar Father who devoted the next 55 years to continually rediscovering what it means to live as a Conciliar Christian and as a Conciliar Church…and now indeed as a Synodal Church.
Czerny said that De Roo called himself "a pilgrim of the Second Vatican Council. … It decisively shaped both his unwavering vision and his lifelong mission.
"He believed that the Church in Canada should rid itself of its instinctive distrust of the modern world and instead always seek to dialogue with contemporary culture, to accompany the path of cultural and social transformation underway and to shed light on the society with the living substance of the gospel."
Czerny gave several examples of De Roo's leadership, including his decision to visit the indigenous communities of his diocese, "with whom he maintained a bond of sincere friendship throughout his life."
This was the case during Friday night prayers, said De Roo's niece, Teresa Vincent, who said a First Nations chief called her uncle "the white swan".
Czerny noted De Roo's commitment to promoting social justice, which led him – as chairman of the Canadian bishops' social justice committee – "to ask the political world about his social policies and the world business on its responsibilities".
De Roo also promoted the role of women, "rejecting patriarchal models which confine them to subordinate positions and offend their human and baptismal dignity".
The cardinal said that De Roo's progressive positions "were highly appreciated by some and much decried by others, [but] it has remained constant despite a certain degree of marginalization and hostility, even within the Church.
Czerny said Pope Francis encouraged people two weeks ago to be builders of open communities that know how to value the talents of each person; that missionaries "walk the paths of the people of our time", give hope to the discouraged and approach the wounded of life, to bandage their wounds with compassion.
"The Holy Father could easily have had our beloved Bishop Remi in mind when, with some tough love, he set out these challenges," Czerny said. "With the intercession of our beloved ancestor, let us embrace them – even at the risk of being, at times, a little irritating – with firm resolve and unquenchable hope."
Douglas Roche, a former senator and friend of De Roo for 60 years, called him one of the great bishops in the history of the Catholic Church in Canada.
"Good books have been written about him and he himself wrote his memoirs, the inspiring story of the farm boy from Swan Lake, Manitoba, who became a driving force for change in the Church, in order to respond within the historical scope of Vatican II, says Roche.
"But the definitive historical record of this great man has not yet been established. I hope that some historian or scholar at some time, perhaps in the not too distant future, will write the full story of the life of this spiritual leader who was visionary, controversial and a beacon of light to all who know the joys and hopes, sorrows and anxieties of Christ's followers.
"What this story will reveal is the life of a pilgrim and a prophet."
De Roo's journey has not been easy in this regard, as he has dedicated his life to leading the way in a renewed and revitalized Church, Roche said.
"Prophets meet with resistance, and they are rarely revered in their lifetime, for their relentless energy always pushes us, challenges us, pushes us forward. It takes a special call from God to be a prophet, and Remi De Roo had that calling.
"The call to be a prophet gave Remi De Roo the courage to defend the rights of women in the Church. It gave him the courage to tell the Government of Canada that it was wrong in its economic policies that disadvantaged the poor. This gave him the courage to assert the supremacy of the enlightened conscience of married couples. This gave him the courage to hold a long synod in his own diocese, in which his main role was simply to listen to people.
Family members recalled De Roo, the second of nine children who grew up on a farm in Manitoba, as kind and gracious, a constant reader who learned several languages ​​on his own, with a fondness for baking pies and chocolate cakes, "and delegating the family to get the ingredients."
"To me, he was just a wonderful friend," said Telford Nault, a friend of 62 years. "He was always there, always with a smile. His last words to me were a blessing.
— with files by Louise Dickson