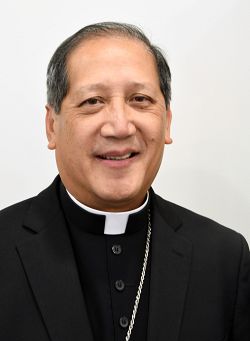 Diocesan pastoral congress: message from the bishop
Friday, September 24, 2021
IC file photo
+ Expand
Bishop Oscar A. Solis
Greetings of peace and welcome to our Annual Diocesan Pastoral Congress. Our theme this year is "Know Christ, Live Christ, Lead Others to Christ", in the context of the Church's evangelization mission. The Catholic Church is called the "universal sacrament of salvation" because she transmits divine Revelation, or truth through evangelization. Vatican Council II clearly declared that "the whole Church is missionary and that the work of evangelization is a fundamental duty of the People of God". The Church exists to evangelize. She received Christ's divine mission to "Go and make disciples of all nations." Baptize them in the name of the Father and of the Son and of the Holy Spirit. Teach them to do whatever I have ordered you to do.
By virtue of our Baptism, we are called to proclaim the Gospel to all who seek the life-giving message of faith through personal encounter with Jesus Christ. We not only proclaim the Gospel, but we also teach God's plan for our salvation through catechesis. The General Directory of Catechesis says that catechesis is "a school of faith". Its purpose is to transmit the Word of God by presenting the Catholic faith rooted in the Holy Scriptures and in tradition, as well as to deepen our communion with God, and to make the faith of a person "alive, aware and active in life. light of instruction. "
Clearly understood, both evangelism and catechesis are necessary elements of our mission. As we proclaim the gospel, we evangelize, and by teaching the truth of God, we catechize to help others establish a union with Christ which will hopefully move them to open their lives to the Word of God, to the sacraments, to a virtuous life and, ultimately, to their vocation. to holiness.
Thus, we have a sacred responsibility to become faithful publishers and effective teachers of the gospel. Saint Pope Paul VI in his apostolic exhortation Evangelii Nuntiandi, taken up by Pope Francis in Evangelii Gaudium, writes that "modern man listens more readily to witnesses than to teachers, and if he listens to teachers, it is because they are witnesses". In other words, we become "authentic missionary disciples by the testimony of our lives, in word and deed."
Our Lord continues to call each of us to be part of the Church's evangelizing mission in various capacities and ministries of the Church. Let us take our vocation seriously by training ourselves to help others at all ages and at all stages of life to fulfill their baptismal call to holiness in family, Church and society, as well as to evangelize and transform the world. into a more caring and fairer society. . (USCCB, A pastoral project for the formation of adults)
With all the clergy, religious and laity, we are collaborators and partners in the mission of evangelization. Let us seek the wisdom of God so that the seeds planted through us bear fruit in our parish community and in our society. We entrust our life and our ministry in the hands of God, present and working in the Church, in the world and in our hearts, so that our gathering may be filled with grace and fruitful.
Finally, we are grateful to the Congar Institute for its partnership with us in our continuing education and for providing this year's Pastoral Congress with a wonderful virtual experience.
Know that you are in my prayers as you come together in your respective parishes as a single faith community in the Diocese of Salt Lake City, "Know Christ, Live Christ and Lead Others to Christ". Let us seek God's favor and invoke his presence in us and among us.
Let us pray:
Lord God, whose blessings reach the ends of the earth,
you show us your love in the life, death and resurrection of Jesus,
whom we call Savior and Lord.
Confirm us in our common faith, so that we walk together with you and with each other.
Send your blessing on your Church, that what we started in the Spirit
can be brought to completion by your might.
May the gifts of God unite us in faith, hope and love, now and forever.
And Almighty God bless you, the Father, and the Son, and the Holy Spirit.
Amen.
The video of this post can be found at https://www.dioslc.org/ under Pastoral Congress 2021.