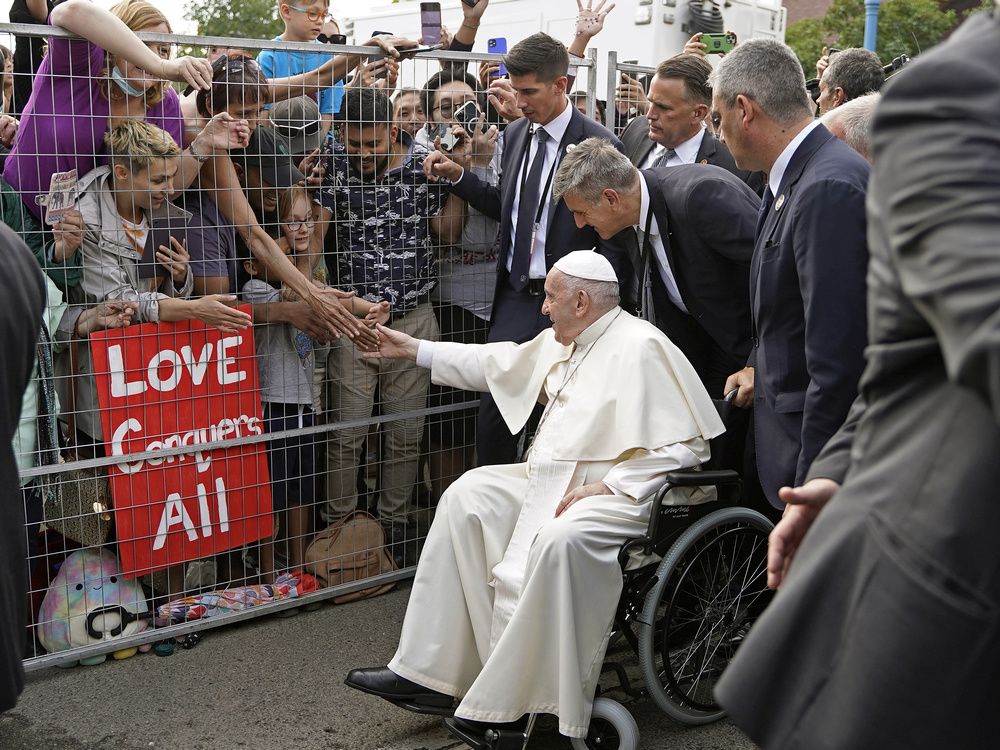 Crowds gather for the Pope's visit to Sacred Heart Church in Edmonton
Content of the article
People attending Pope Francis' first public appearance in Edmonton hope his visit to Canada will be an opportunity to shine a light on the history of residential schools in Canada for those who have been left in the dark.
Content of the article
After issuing a second apology Monday morning for the Catholic Church's share in the damage caused by the residential schools, Francis appeared before an audience at Sacred Heart Church of First Peoples, an Aboriginal church in central Edmonton.
Drummers inside and outside the building announced his arrival. Seated in front of around 250 people in the pews, he listened to a song from the choir, which seemed to strike an emotional chord with the pontiff when he buried his face in one of his hands during the performance.
Before issuing his first apology in April, Francis said he had reflected on the stories he had heard from delegates visiting him in Rome. This experience led him to believe that a path to healing requires "concrete action," he told the audience.
Content of the article
"So I'm happy to see that in this parish, where people from different First Nations, Métis and Inuit communities come together with non-Natives from the area and many of our immigrant brothers and sisters, this effort has already started. »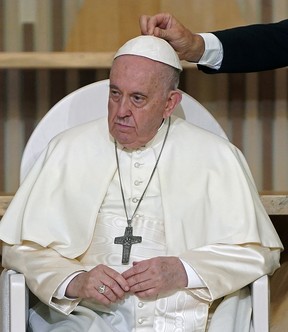 After speaking in Spanish on the subject of reconciliation, he led the church in prayer and exchanged gifts with several members of the audience who presented him with several works of art as well as a blanket, a Métis belt and an eagle feather.
As Pope Francis left the church on Monday evening, he was greeted by cheers from more than 100 people outside as he took a turn in the street outside and waved at visitors who waved at him were waiting on the other side of a closed perimeter.
Content of the article
Rod Adam, a 74-year-old residential school survivor, stood outside the church holding pictures of his two grandchildren, aged five and three. He said he couldn't bring them in person, but it was important for them to be there and learn about residential schools one day.
He also plans to bring the big pictures of his grandchildren to Lac Ste. Anne on Tuesday, when Francis is due to visit the shrine northeast of Edmonton.
"I'm going to teach my grandchildren what residential schools were like, what colonization is," Adam said. "So when they come to Grandma and Grandpa, Grandpa will tell them everything I know."
Adam said Sacred Heart Church has always been a "beacon" for Indigenous people in Edmonton. He has lived in the city for seven years and has visited the church a few times, although he has friends who come more often.
Content of the article
Adam said he spent five years in residential school in Alberta and one year in Saskatchewan. He struggled to describe his emotions after seeing the Pope in person, and said he still needed to "dwell" on the Pope's apology.
With the Pope in Canada, Adam said more people would learn about residential schools.
"From today, after what he did and said, maybe people who didn't notice or didn't want to read or listen to TV or whatever, will now know what we as Indigenous people have been through," he said.
Charlene Homulos, 56, drove from Lethbridge with her roommate and her roommate's mother to see the pope at church. Homulos is not aboriginal and she learned about residential schools only a few years ago.
Homulos said his roommate's mother was a residential school survivor and said she learned all about them, adding that it was important to listen to survivors' stories.
"All my school life we ​​were never taught anything about this, I never found out it actually happened until a few years ago," she said.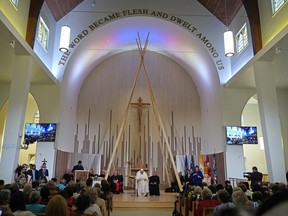 @hamdiissawi
@kellentaniguchi