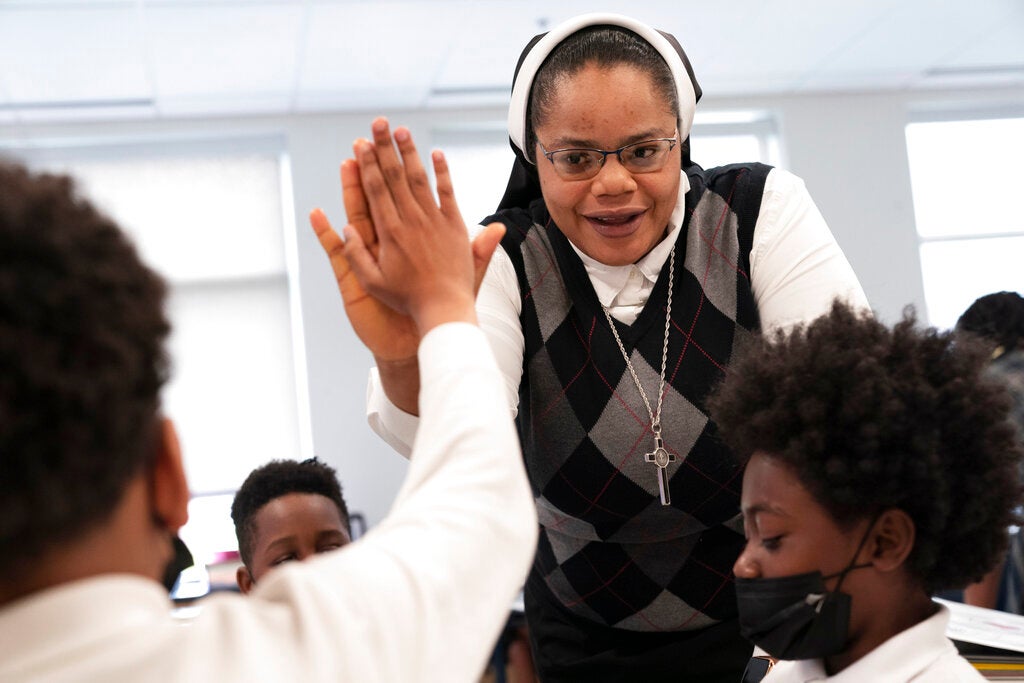 Black Catholic Nuns: A Fascinating and Long-Ignored History
Among the women Williams interviewed at length was Patricia Grey, who was a nun with the Sisters of Mercy and founder of the CNB before leaving religious life in 1974.
Gray shared with The Associated Press painful memories of 1960, when — as an aspiring nurse — she was rejected for membership in a Catholic order because she was black.
"I was so hurt and disappointed I couldn't believe it," she said of reading that rejection letter. "I remember crumbled it and didn't even want to see it again or think about it again."
Gray was initially reluctant to help with "Subversive Habits," but eventually shared her own story and personal archive after urging Williams to write about the "mostly overlooked and underresearched story" of black American nuns.
"If you can, try to tell all of our stories," Gray told her.
That's exactly what Williams set out to do – sifting through neglected archives, previously sealed church records and out-of-print books, while conducting more than 100 interviews.
"I witnessed a deeply unknown story that disrupts and revises much of what has been said and written about the American Catholic Church and the place of black people within it," Williams writes. "Because it's impossible to tell the journey of black sisters in the United States — accurately and honestly — without confronting the largely unacknowledged and unreconciled histories of colonialism, slavery, and segregation."
Historians have been unable to identify the country's first black Catholic nun, but Williams recounts some of the early moves to bring black women into Catholic religious orders – in some cases, in the hope that they would function as servants.
One of the oldest black brotherhoods, the Sisters of the Holy Family, formed in New Orleans in 1842 because white Louisiana brotherhoods, including the slave-holding Ursuline order, refused to accept Afro -Americans.
The main founder of this New Orleans order – Henriette Delille – and the founder of the Oblate Sisters of Providence, Mary Lange, are among the three black nuns in the United States designated by Catholic authorities as worthy of consideration for holiness. . The other is Sister Thea Bowman, a beloved educator, evangelist and singer who died in Mississippi in 1990 and is buried in Memphis, Williams' hometown.
In searching for lesser nuns, Williams faced many challenges – for example, tracking down Catholic sisters known to their contemporaries by their religious names but listed in the archives by their secular names.
Among the many pioneers was Sister Cora Marie Billings, who at age 17 in 1956 became the first black person admitted to the Sisters of Mercy in Philadelphia. Later she was the first black nun to teach at a Catholic high school in Philadelphia and was a co-founder of the National Black Sisters' Conference.
In 1990, Billings became the first black woman in the United States to lead a Catholic parish when she was appointed pastoral coordinator of St. Elizabeth Catholic Church in Richmond, Virginia.
"I have been through many situations of racism and oppression throughout my life," Billings told The Associated Press. "But somehow I just dealt with it and carried on."
According to recent figures from the United States Conference of Catholic Bishops, there are about 400 African-American nuns, out of a total of about 40,000 nuns.
This overall figure represents only a quarter of the 160,000 nuns in 1970, according to statistics compiled by Catholic researchers at Georgetown University. Regardless of race, most of the remaining nuns are elderly, and the influx of young novices is rare.
The Baltimore-based Oblate Sisters of Providence once had more than 300 members, according to their superior general, Sr. Rita Michelle Proctor, and now has fewer than 50 — most living at the motherhouse in outskirts of Baltimore.
"Although we are small, we are still in service to God and to God's people." said the overseer. "Most of us are old people, but we still want to do it as long as God calls us."
Even with reduced ranks, the Oblate Sisters continue to operate Saint Frances Academy – founded in Baltimore by Mary Lange in 1828. The coeducational school is the nation's oldest black Catholic educational institution, with a mission giving priority to helping the "poor and neglected". ."
Williams, in an interview with the AP, said she was considering leaving the Catholic Church — in part because of her handling of racial issues — when she began researching black nuns. Hearing their stories, in their own voices, revitalized her faith, she says.
"As these women were telling me their stories, they were also preaching to me in such a beautiful way," Williams said. "It was not done in a way that reflected any anger – they had already made peace with it, despite the ungodly discrimination they had faced."
What keeps her in the church now, Williams said, is a commitment to those women who have chosen to share their stories.
"It took a lot for them to get it out," she said. "I remain in awe of these women, of their loyalty."