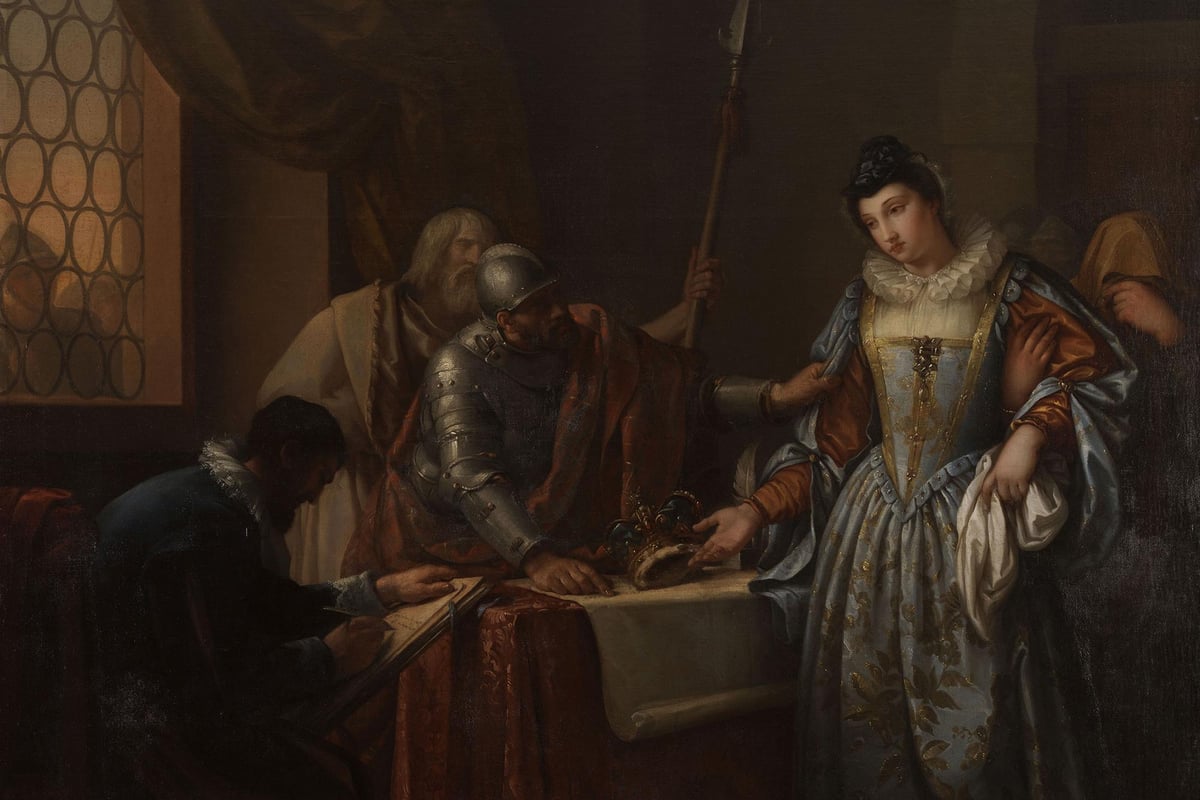 Art Reviews: The Afterlife of Mary Queen of Scots | Ken Currie
The Afterlife of Mary Queen of Scots, Hunterian Art Gallery, Glasgow *****
Ken Currie, Chunnacas na mairbh beo (The dead were seen alive), Glasgow Print Studio *****
Returning to Scotland from France in 1561 to claim her crown, Mary Queen of Scots, aged just 18, was plunged into a religious maelstrom. A Catholic among zealous and triumphant Protestants, she polarized opinion during her lifetime and long after her brutal death at the hands of her cousin, Elizabeth Tudor. This is how Liz Lochead sums it up: "Catholic Mary is certainly a martyr and almost a saint. The Protestant version oscillates between the soft victim and the politically inept nymphomaniac demonic woman. It's hard to imagine that a real person could inspire such irreconcilable opinions, but to further complicate the picture, she then turned into a tragically beautiful heroine. This conflict of views and their confusing romantic consequences are the theme of The Afterlife of Mary Queen of Scots, a fascinating exhibition at Glasgow's Hunterian. Liz Lochead's remark, about her play Mary Queen of Scots had her head cut off, is one of many quotes about Mary displayed on the show.
The Abdication of Mary Queen of Scots by Gavin Hamilton PIC: The Hunterian, University of Glasgow
The Hunterian is well placed to explore the enigma of Mary Stuart. William Hunter's coin collection is exceptional and the coins are illuminating witnesses, if not of the facts of history, at least of the image the powerful wished to project, so here are the coins of Mary and those of her son, James VI, who replaced her, are particularly fascinating. In 1553, for example, master coiner John Acheson was sent from Edinburgh to Paris specifically to design Mary for his coins. She was only eleven years old, but it is clear that a genuine resemblance to the ruler, even as a child, was considered the key to confidence in the currency. James too, aged just nine, appears as an armed and crowned king on a magnificent gold coin issued in 1575. The 1553 coin of Mary is a beaten example, but the beautiful and determined woman, profile clearly legible on a testimonial ribbon from 1561, is surely a compelling image of this remarkable woman.
Mary was barely a week old when she became queen in 1542 and was immediately at the center of a religious tussle. The Rough Wooing, eight years of English invasions, sought to bring about her marriage to the Protestant Edward Tudor, but she was betrothed instead to the Catholic François, Dauphin of France and in 1548 was taken to France. Francis became Francis II of France but reigned for just two years. A rare 1558 coin with their initials, F and M, intertwined depicts this brief marriage of the French and Scottish crowns. The Scots and the French shared the same nationality. Maybe this could be our way out of Brexit?
Mary's return to Scotland in 1561 followed the death of her husband and her mother, Mary of Guise, who had been regent on her behalf. It couldn't have been a worse time. The year before his return, Protestants had prevailed and Catholicism was outlawed in Scotland. Mary was Catholic. She was also a woman. Fanatics of patriarchal religions are usually deeply misogynistic. Scottish Protestants were no exception to this unpleasant rule. The fact that Mary faced them for six years speaks volumes about her intelligence and strength of character.
In 1565 she married her cousin, Henry Stuart. He became Lord Darnley then King an. In 1566, the names of Mary and Henry are linked on a beautiful ribbon coin as Queen and King of Scots. James VI and I were their son. In 1567, however, Darnley was assassinated. The Protestant side wasted no time in using Darnley's murder and Mary's quick marriage to the prime suspect, James Hepburn, Earl of Bothwell, to blacken their name as murderer, whore and worse. George Buchanan, originally her tutor, violently turned against her. He was, however, led to write an appendix to his history of Scotland which, by setting forth the theory of sovereignty by consent of the people, was a text which reverberated through the centuries. Indeed, in the glaring state of our current politics, it might even have relevance today.
The Queen by Rachel Maclean
After Mary's marriage to Bothwell, things escalated into open conflict. Taken prisoner at the battle of Carberry Hill, she is forced to abdicate in favor of her son. She then escaped, but defeated at the Not Really a Battle of Langside, she fled to England. Like her, great-granddaughter of Henry VII, Mary was a potential Catholic rival of the Protestant Elizabeth. Conspiracies were certainly swirling around Mary, whether she was an accomplice or not. Eventually Elizabeth decided to get rid of her. The brutality of her execution was a propaganda giveaway that was not spared in the endless pro-Catholic images of Mary as a martyr produced over the next century of religious strife. There's even a painting here, once a prized possession of Walter Scott, which is believed to be a contemporary image of his severed head.
Religious antagonisms ended up calming down. Gavin Hamilton pioneered a new image of Mary. In 1765, James Boswell commissioned a painting of his abdication from him. Now in the Hunterian collection and recently restored, it is the centerpiece of the show. Hamilton paints her as a beautiful, thinly dressed woman confronted by three angry-looking men. One of them, his armor contrasting conspicuously with his delicate costume, grabs his sleeve. She became a sentimental heroine, a figure of delicacy and sentiment in a crude male world. In his novel, The Abbot, Walter Scott gave universal value to this sentimental new Mary and she has since appeared in all types of media or formats. There is even a twenty-second film from 1895 about the execution of Mary, the very first film of a Scottish subject. Nevertheless, in all of this, there is a document with his signature on it that seems to break through the fog. She visited the University of Glasgow. Most of the staff had fled and she was shocked at the state she was in. Whatever she did for the university itself, this document reports that part of her response was to find scholarships for five poor students. This is clearly not demonstrative royal largesse. Rather, it is a glimpse of a thoughtful and sensitive woman engaged with the reality her people faced in the chaos of political and doctrinal conflict.
It is perhaps fortunate that the Catholic propagandists who used the image of Mary's cruel death so gratuitously did not have an artist of Ken Currie's caliber to work for them. They would have gotten a far scarier image than any that have been produced because the work in his Glasgow Print Studio show is truly graphic. Its title, The Dead Have Been Alive, is taken from the poem Hallaig by Sorely McLean. It evokes the ghosts that haunt the village of Hallaig, emptied by the Dégagements. As the subtle and complex artist that he is, Currie also deploys the idea of ​​ghosts in an entirely different sense. The word is used to describe a sort of afterimage in the printing process that he exploits in the monotypes that make up the bulk of his show. But Currie's ghosts also draw inspiration from haunting Egyptian funerary portraits that survive from the early centuries AD. What persists in such images? Is it really some kind of ghost? Currie's dark vision certainly has enough strength to last. His ghosts are graphic and compelling although the afterlife doesn't look easy.
The Afterlife of Mary Queen of Scots until February 5, 2023; Ken Currie, Chunnacas na mairbh beo (The Dead Were Seen Alive) through November 26
Head of Mary Queen of Scots after takeoff by Amias Cawood PIC: The Faculty of Advocates Abbotsford Collection Trust
Head and Ground, by Ken Currie